FLOWER OF LIFE
AYAHUASCA RETREATS
Affordable Ayahuasca Retreats
Lakshmi Eco-Lodge and Spa felt called to create a space specifically for Ayahuasca. Lakshmi, named for the Hindu goddess who grants wealth and prosperity to those who work hard, with honesty, virtue and bravery, has always been dedicated to holistic healing and spiritual and personal growth. Upon realizing that we have the perfect space to also show people the incredible world of plant medicine, we created our Flower of Life Ayahuasca retreats.
We've chosen the Flower of Life symbol to represent the mission of our Ayahuasca retreats as the Flower of Life represents creation, the process of bringing something new into existence, transformation of circumstances, manifestation of the beauty in your inner world to your outer world and deep healing. Our mission is to provide a comfortable and safe environment where guests can engage the rain forest and the awe inspiring spirit of Mother Ayahuasca and remember and reconnect with their highest self.
At the Flower of Life Ayahuasca retreat center and holistic spa, your healing, health and happiness is our first priority.
We invite you to join us in the Amazon Rainforest for a taste of one of its most sacred treasures, Ayahuasca. This plant medicine that has been used by the indigenous people for many thousands of years to send participants on inter-dimensional journeys of the heart and mind.
On these sacred shamanic journeys, you can expect profound transformations of your spiritual, energetic and physical bodies, as you explore your inner depths.
You can also expect to face any trauma that may be haunting your psyche, so that you may heal from it and be free to live your life unburdened by it.
Your experience will be completely unique, and it's said that no two peoples' journeys are ever exactly the same. But some common themes are the feeling that your mind has been propelled to another dimension, which is believed to be the spirit world.
And the majority of participants report having interaction with the spirit of the plant, who is lovingly referred to as Mother Ayahuasca. Some see her, some hear her, and some report receiving messages in other more subtle ways, but consistently, she provides love and life advice, even if tough love is needed.
Our 8 day Ayahuasca retreats include transportation to and from our lodge, spacious cottages with private bathroom and shower, all meals, 4 Ayahuasca ceremonies, 1 san pedro ceremony, personal consultation with healers and the facilitator, 4 floral baths, 4 vapor baths with medicinal plants in the sauna, plant remedies if prescribed by healers to work in combination with Ayahuasca, boat rides to the local village to look at arts and crafts, jungle walks and swims with pink dolphins!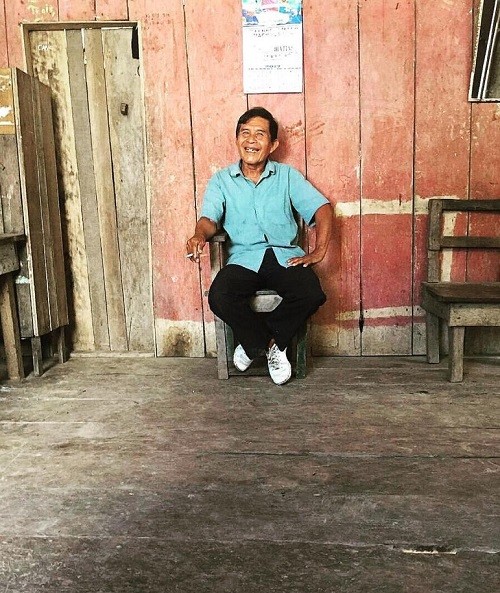 Master Lino is a native Kokama curandero, (native healer). He is an expert in medicinal plants and uses them to make specialty brews to help alleviate depression and anxiety disorders. Maestro Lino learned at a very young age from his parents how to become a healer with tobacco (mapacho) and because he lives in the jungle he has a vast knowledge of the surrounding plants and can identify which ones have healing properties. He puts his heart and soul into helping those who come to him for help and has healed many with his wonderful gift as a healer.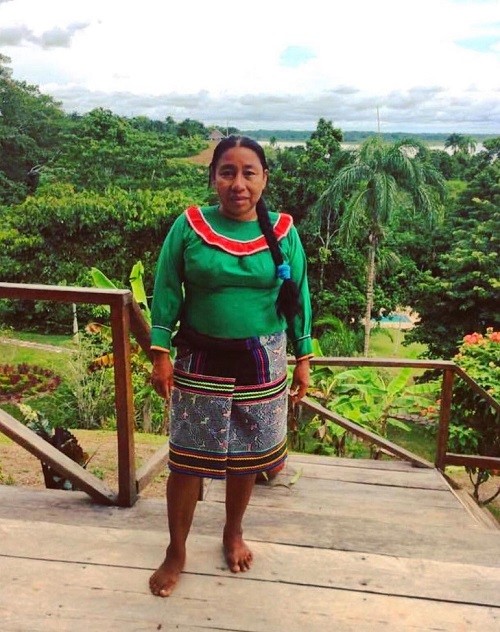 Maestra Juanita is from Pucallpa, a city on the Ucayali River in the Amazonian rainforest of eastern Peru. She is of Shipibo lineage with 20 years of experience in medicine plants and is one of the best in the Iquitos area. Juanita is the mother of 4 children and wife of Mr. Fernando Itamani Gonsalez, who also belongs to the Ayahuasca and medicine plant world. Juanita's diet consists of different medicinal plants such as Ayahuama, Shiric Sanango, Toe leaves, Ajo Sacha and Piñon blanco and she incorporates this into her work for those that need healing. During the Ayahuasca ceremonies, Juanita connects with our guests with her beautiful icaros songs for more than four hours.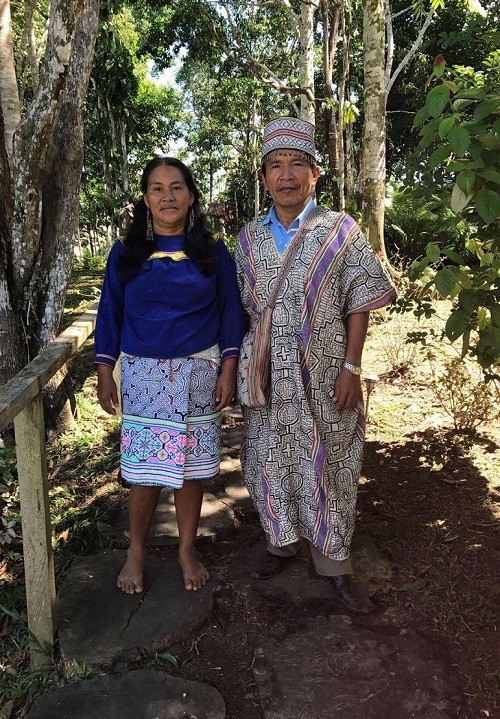 Meet our Maestra and Maestro:
Pedro and Celia are from Pucallpa and are of Shipibo lineage. They now reside in Iquitos.
At the age of 12, Pedro began his shamanic journey by experiencing different medicinal plants including Ayahuasca with his first maestro.
By the age of 14, he began learning how to treat different sicknesses and illnesses with medicinal plants like chucuwasa, Shiric sanango, and more. He now has over 35 years of experience as an ayahuasquero.
Mrs. Celia Huaita has been working with medicinal plants for over Years.
The Flower Of Life Experience
Throughout your healing process, we integrate meditation sessions, yoga classes, private consultations with our healers, and jungle excursions for some added fun and adventure.
These excursions include taking an authentic Amazonian boat tour, hiking in the jungle, and swimming with pink dolphins!
We aim to facilitate your healing process while surrounded by beauty and comfort so that you may undergo your journey in a safe, calm and pristine environment. And we offer steam and floral baths to sooth your mind and body along the way.
We welcome you to take a look around our website and soak in the beauty of this amazing place we call home, and we look forward to greeting you with open arms.